We Cater to Your Home or Business!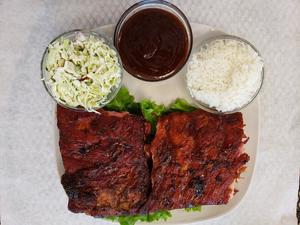 BBQ Baby Back Ribs
From the loin – Baby Backs are the leaner pork rib. We season simply and let the smoking process be part of the overall seasoning.
Meal 25.00
a la Carte
$22.00
BBQ Half Chicken
Juicy, melt in your mouth chicken layered with flavors from the best Sweet BBQ Chicken Rub, light apple woodsmoke, and a sweet/tangy BBQ Sauce
 
Meal $18.00
a la Carte
$14.00
Quesadilla

Choice of chicken, beef, or ham
9.00
Scallops

Smoked scallops have been described as delicious in part due to how the mollusk absorbs the smoky flavor "better than just about any other seafood. 
Meal $16.00
a la Carte
$13.00
See what our costumers are saying about us!


★★★★★
"The best BBQ I have ever had! I have hated ribs my entire life. I tried the pork ribs because a friend wanted me to try them. The changed my life. I love this place!!!"
-Nicole D.
See all our testimonials here